CAD Data Converter
CAD data conversion tool for artisoc
Supports the previously burdensome process of converting CAD data to the cell space data used by artisoc.
Users can build models using basic models that derive the layout of the simulation from CAD data.
The tool includes functions to calculate and output the "potential," which calculates the distance to an exit, a concept that is frequently used in models involving movement over the layout.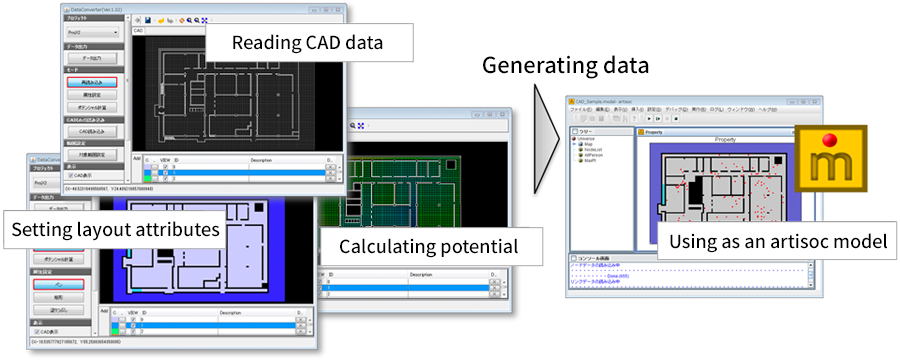 Features of the tool
Can designate bounds of area used in simulation,
as well as cell space size

Editing of attribute information for each cell,
and of potential information

※Functions to edit the CAD data itself are not included

Can read CAD data in DXF format

Compatible with Line, PolyLine, Circle and Arc entities in DXF-format data

Able to recognize closed areas in CAD data

CAD data space converted into artisoc cell space

Simulation attributes can be designated by a specific area in the CAD data.

Bulk designation of areas using fill function

Function to calculate potential maps

Potential maps can be created by specifying the calculation area and the destination.

Compatible with von Neumann neighborhood and Moore neighborhood calculation methods

Background image creation function

Images for use as backgrounds in artisoc are output in a format compatible with post-conversion data for use in simulations.

Data output functions

Output of cell space data for simulation use (attributes, potential data)

Output of vector data for simulation use (CAD data nodes, link data)

Output of background images compatible with simulation data

Included sample model shows agents operating
in a created cell space

The price for models that suit your application can be quoted separately.
Case studies
Urban planning
Pedestrian simulations for the evaluation of facilities that attract customers, etc.
Disaster prevention / evacuation
Building evacuation simulations, etc.
Operating environment
Requires artisoc USB license key
Windows 7/Vista/XP
Java 1.6.0 or later must be installed
Pricing
Corporate / government users: Please send us your inquiries by email (mas-support@kke.co.jp).
(※Purchase of the artisoc software itself is a precondition for the purchase of this tool.)
Educational and academic use: ¥70,000 (before tax)  Please send the application form by email.
Requires artisoc or KK-MAS USB license key for use.
Existing USB license keys can be used for those who have purchased artisoc 3.5 and earlier versions.
For those who have not purchased artisoc 3.5 or earlier, a USB license key must also be purchased at the same time.
Prices for customizations are quoted separately. Please feel free to send us your inquiries.
Demonstration of use of output data
A sample model showing data output from the CAD Data Converter is included.
In the sample model, each agent moves toward the exits based on layout data, such as potential information and facilities information, output by the CAD Data Converter.
Please check the output data file format and image before using.

View operating demonstration video here
Inquiries regarding product details and installation can be made here.
Please feel free to ask questions
about the tools here.
Inquiries by email can be made here.
mas-support@kke.co.jp
KOZO KEIKAKU ENGINEERING Inc.,
Creative Engineering Department, MAS Support Contact Person